KM-310A-15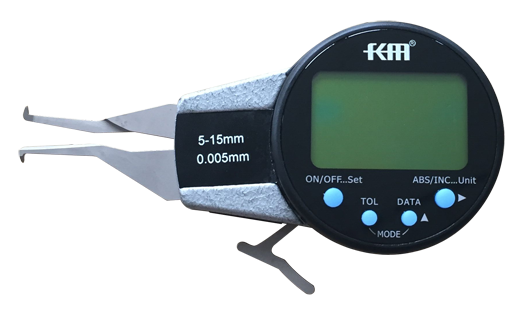 Feature:
1. Digital resolution:0.005mm(Metric); 0.0002″(Inch).
2. Analog resolution:0.01mm;0.02mm;0.05mm(Metric),
0.0005″;0.001″;0.002″(Inch).
3. Suited for measuring bores, internal groove and other hard-to-reach inside dimension.
4. Dial rotates ±170° for use at versions angles.
5. Display data is origin data of absolute measurement after changing battery.
6. Digital display and analog display on LCD, automatic switch over.
7. Analog display range:±20 graduation.
8. Supplied in safe case packing.
Specification:
Travel 10mm
Metric
Order No.

Range

Resolution

Accuracy

Measuring Contact Forms

KM-310A-15

5~15mm

0.005mm

0.02mm

KM-310A-20

10~20mm

0.005mm

0.02mm

KM-310A-30

20~30mm

0.005mm

0.02mm

KM-310A-40

30~40mm

0.005mm

0.02mm

KM-310A-50

40~50mm

0.005mm

0.02mm

KM-310B-20

10~20mm

0.005mm

0.02mm

KM-310B-30

20~30mm

0.005mm

0.02mm

KM-310B-40

30~40mm

0.005mm

0.02mm

KM-310B-50

40~50mm

0.005mm

0.02mm
Inch
Order No.

Range

Resolution

Accuracy

Measuring Contact Forms

KM-310A-0.6

0.2~0.6″

0.0002″

0.0008″

KM-310A-0.8

0.4~0.8″

0.0002″

0.0008″

KM-310A-1.2

0.8~1.2″

0.0002″

0.0008″

KM-310A-1.6

1.2~1.6″

0.0002″

0.0008″

KM-310A-2.0

1.6~2.0″

0.0002″

0.0008″

KM-310B-0.8

0.4~0.8″

0.0002″

0.0008″

KM-310B-1.2

0.8~1.2″

0.0002″

0.0008″

KM-310B-1.6

1.2~1.6″

0.0002″

0.0008″

KM-310B-2.0

1.6~2.0″

0.0002″

0.0008″
Travel 20mm
Metric
Order No.

Range

Resolution

Accuracy

Measuring Contact Forms

KM-320A-25

5~25mm

0.005mm

0.03mm

KM-320A-30

10~30mm

0.005mm

0.03mm

KM-320A-40

20~40mm

0.005mm

0.03mm

KM-320A-50

30~50mm

0.005mm

0.03mm

KM-320A-60

40~60mm

0.005mm

0.03mm

KM-320B-30

10~30mm

0.005mm

0.03mm

KM-320B-40

20~40mm

0.005mm

0.03mm

KM-320B-50

30~50mm

0.005mm

0.03mm

KM-320B-60

40~60mm

0.005mm

0.03mm
Inch
Order No.

Range

Resolution

Accuracy

Measuring Contact Forms

KM-320A-1.0

0.2~1.0″

0.0002″

0.0012″

KM-320A-1.2

0.4~1.2″

0.0002″

0.0012″

KM-320A-1.6

0.8~1.6″

0.0002″

0.0012″

KM-320A-2.0

1.2~2.0″

0.0002″

0.0012″

KM-320A-2.4

1.6~2.4″

0.0002″

0.0012″

KM-320B-1.2

0.4~1.2″

0.0002″

0.0012″

KM-320B-1.6

0.8~1.6″

0.0002″

0.0012″

KM-320B-2.0

1.2~2.0″

0.0002″

0.0012″

KM-320B-2.4

1.6~2.4″

0.0002″

0.0012″